Barb's Custom Imprint Shop.com
Looking for promotional products? You've come to the right site! Whether you are looking for a specific item or just browsing for ideas, our site is your one-stop source.
Barb's Custom Imprint Shop provides imprinted promotional products for Mom & Pop businesses as well as large corporations/events. We'll help you with ideas while staying within your budget. We provide the best price, the best service, the best selection and the best quality for you.
Featured Item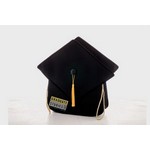 The Grad Bag Deluxe - 17" x 19&quot...
Luxury Felt Graduation Bag. The Grad bag deluxe is a magnificent bag option for a school function event, college party celebration and educational fundraiser projects! It is the real bag with the real...