Barb's Custom Imprint Shop.com
Looking for promotional products? You've come to the right site! Whether you are looking for a specific item or just browsing for ideas, our site is your one-stop source.
Barb's Custom Imprint Shop provides imprinted promotional products for Mom & Pop businesses as well as large corporations/events. We'll help you with ideas while staying within your budget. We provide the best price, the best service, the best selection and the best quality for you.
Featured Item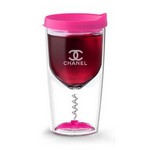 Vino Opener Cup
The Vino Opener has all the great benefits that you know and love from the Vino2Go. Now with an added 'Twist'. A handy corkscrew that easily pops in and out of the bottom of your vino. A truly versati...